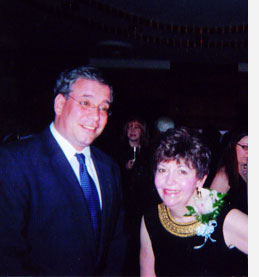 The Eve Fenton Love-All Foundation inaugural event was a huge success.  The gala fundraiser was held at Cipriani's the world famous Rainbow Room with magnificent views overlooking the city.

Stemming from a family tradition, Vicki Fenton, President of the Foundation said: "I want to leave a good name on this earth.  My Grandmother and my Mother, Eve were my teachers and I want to carry on their tradition to help disabled children in New York.  Our next event will be on December 19th at Mt. Sinai Pediatrics with toys for the children."

Mayor Bloomberg sent a warm letter saying:  "On behalf of the City of New York, I commend Vicki Fenton and all those who made the Foundation possible.  It is a meaningful way to honor your Mother's memory, and I am certain she would have been proud to celebrate with you. 

This foundation will provide disabled children with the resources they need to lead a full and happy life. 

From nutritional and physical education to the fine arts program, this organization is going to have a lasting impact in the lives of our City's most vulnerable young people."

The evening's celebration started with a cocktail party, violin music played by Kathryn Kienke and a live silent auction.  During dinner John Luke, a staple at NY's landmark Monkey Bar sang while Jerry Scott "the dean of NYC's piano bar entertainers" played the piano and everyone danced.

Everyone then listened to an awards ceremony honoring the following people: Ken Daneyko, 3 time Stanley Cup Champion; NYS Assemblyman Scott Stringer, newly elected Manhattan Borough President; Angelo Gimondo of the Italian Cultural Institute; FDNY Chief of Operations Salvatore Cassano; Dr. Alan M. Aron, Director of Pediatric Neurology, Mt. Sinai Hospital; Dr. Ira Eliasoph, Senior Physician of Ophthalmology, Mt. Sinai Hospital.   The welcome address was given by William Dobrow, Financial Advisor to the Foundation and Associate Vice President of Investments for Oppenheimer; the Benediction was given by Rabbi David M. Posner.

Congratulatory notes poured in as follows: Senator Hillary Rodham Clinton wrote:  "I hope that Eve Fenton Love-All Foundation will inspire others across the nation to become involved in the well-being of their societies.  I thank you for your commitment to building stronger communities."  Well wishes also came from Congressmen Jerrold Nadler and Charles Rangel as well as State Senator David Paterson.  Jerome Richard of Oppenheimer - who received The Order of Lafayette, The Order of St. John of Jerusalem & The Chevalier of Honor said:  "This is the most important charity event in all of New York."

Sponsors of the event included NJ Devils, NY Giants, Cipriani's, Serendipity, Jonevon Furs, WNBA, Red Bull, Seasons Floral Design Studio, Charmer Industries, Sign & Decal Corp. and Alpha Engraving Company.
Clinton Chronicle, December 2005 Vol. 11 No. 12