By: Demetria Daniels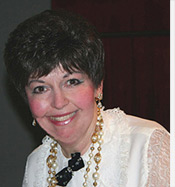 Delayed by the 29-inch winter blizzard, the Eve Fenton Love-All Foundation Dinner was held shortly after Valentines Day at the beautiful Rainbow Room. With snow still on the ground, a number of people gathered for the auction and dinner, which honored Dr. Ira Eliasoph of Mt. Sinai Hospital and Salvatore Cassano, Chief of Operations, NYC Fire Department.
Cupid was personified by Vicki Fenton, President of the Foundation, (as pictured above) who started the lovely evening by singing "Give Me a Little Kiss," and "Music, Music, Music." This charming introduction warmed the room and the event for the evening and set everyone aglow with warmth in their hearts.
At the cocktail party preceding the dinner, Rena Isbin serenaded the guests with violin melodies as they mid for their favorite paintings and paraphernalia at the silent auction. Sport theme posters were donated by Upper Class Collectibles; many were painted by Bill Lopa. Other donations included wines from Great Wines International, fox scarves by Jonevan Furs, hockey pucks from the New Jersey Devils and gift certificates for Berta67 and Ruthie's Bakery.

During the dinner portion of the event, Monsignor John Delendick, FDNY Chaplain and Chaplain at St. Judes Church, gave the benediction and Rabbi Joseph Potasnik, President of the Board of Rabbis, said prayers and blessed the group.
William Dobrow, financial advisor for the Foundation welcomed everyone. Frank Cruthers, FDNY Deputy Commissioner, spoke about children, values and the family life. Next, FDNY Chief of Operations, Salvatore Cassano, who is in charge of 11,000 firefighters and part of the 9/11 operations spoke and asserted "support the children and spread the word."
Guests were entertained throughout the evening by an array of wonderful performers. The talented and nimble pianist Jerry Scott played musical requests, famous renditions and love songs reflecting the spirit of Valentine's Day. Vocalist Elena Malfitano sand an Italian aria by Puccini; Joel Landy, who produces his own television show sang one of his own original compositions, a song entitled "Anyone Can Do It." And everyone danced to the glorious music and had a splendid evening.
The Foundation thanks the following for their contributions: Matles Florist for the floral arrangements; Signs and Decals for the banner, other sponsors for their support including Alpha Engraving Company, Entertain-O-Gram, Delancey Dessert Co.; and Starbucks for treating everyone to a guest coupon at their stores.
The Eve Fenton Love-All Foundation donates money to disabled children and creates events in the New York area. Mayor Bloomberg sent a letter to congratulate the Foundation for its work and Jerry Nadler saluted Vicki's compassionate effort for disabled children; Senator Chuck Schumer wrote, "I salute your work." The evening ended happily.
The Clinton Chronicle, April 2006 Volume 12, No. 4