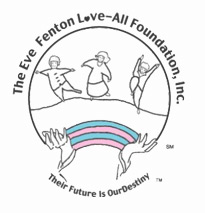 The Eve Fenton Love-All Foundation, Inc.
Grand Central Station
P.O. Box 1258
New York, NY 10163
     This is a window of opportunity to walk the humanitarian road and support the Eternal Flame of Life for kids in need and kids with special needs. Each and every day the beacon light of hope reflects the miracles of prestigious sponsors for our Foundation. Our endeavor is to provide jubilation for our future generation and with love and joy in their hearts they will navigate to success.

Vicki Fenton
CEO & President